SMALL BUSINESS BC AWARDS FINALISTS ANNOUNCED
January 22, 2020 – British Columbia

Small Business BC is pleased to announce the finalists of the 17th Annual Small Business BC Awards. Over 600 small businesses across B.C. received nominations for the Awards during the nomination period from October 1 - November 30, 2019, and now have been whittled down to the Top 5 businesses in each award category. ​
​​
​The Top 5's represent small businesses from across British Columbia, including a  tiny home manufacturer in Vernon, a  clean cosmetics company in Salmon Arm,  and a famous cat-focused cafe in Vancouver. This year's nominations show the breadth and innovation of the BC small business community, which is poised to flourish in the coming years.
Previous winners include:
​Terramera
​Sea to Sky Air
​Mealshare
​Winecrush
​Two Wheel Gear
​Moving 2 Canada
​Sea to Sky Removal
​Fully Managed Inc.

​As the leading small business awards competition in British Columbia, these awards not only recognize the outstanding achievements of local entrepreneurs, they also provide a powerful platform for future success. With eight different categories, here are the Top 5 finalists for each category:
PREMIER'S PEOPLE'S CHOICE
​Presented by the Province of British Columbia
​
​Boteco Brasil, Vancouver
​Catoro Café, Vancouver
​Griottes Polyglottes, Vancouver
​Reuse Bags, Port Moody
​Skwalwen Botanicals, Brackendale
​
​BEST COMMUNITY IMPACT
​Presented by Vancity
​
​Catoro Café, Vancouver
​Ginger Jars, Gibsons
​Guru Nanak's Free Kitchen, New Westminster
​Rio Theatre, Vancouver
​Squamish Connector, Squamish
BEST COMPANY ​
​Presented by Small Business BC ​
​
​Advanced Storage Centres, North Vancouver
​Evision Media, Abbotsford
​Foxy Box Wax Bar, Victoria
​ Green Chair Recycling, Vancouver
​Twirling Umbrellas, Kelowna
BEST EMPLOYER
​presented by ADP
​
​Emelle's Catering, Vancouver
​Geoscan Subsurface Surveys, Burnaby
​Kleiner Services, Burnaby
​Propel Solutions, Vancouver
​Withinus Natural Health, Burnaby
BEST IMMIGRANT ENTREPRENEUR ​
​Presented by BDC
​
​Amiante Environmental Consulting, Abbotsford
​High Beam Dreams, Gibsons
​i4C Innovation, Trail
​Magnum Construction Services Inc., New Westminster
​Mansouri Immigration Firm, West Vancouver
​​
​BEST INNOVATION
​Presented by Western Economic Diversification Canada
​​
​Advanced Quality Systems, Vancouver
​Goose Insurance, Vancouver
​Grizzly Force, Vancouver
​Kinzoo, Vancouver
​Reusable Bubble Tea Cup, Vancouver
BEST MARKETER
​Presented by Small Business BC
​
​Ay Lelum Good House of Design, Nanaimo
​Culture Kefir Co., Richmond
​Emelle's Catering, Vancouver
​Hunter Browns, Richmond
​Summit Tiny Homes, Vernon
​​
​BEST YOUTH ENTREPRENEUR
​Presented by Kwantlen Polytechnic University ​
​
​Eat the Dishes, Surrey
​Elevate Ultimate, Burnaby
​Flourist, Vancouver
​Mismack Clean Cosmetics, Salmon Arm
​Sweet Lavations, 108 Mile Ranch
For the final step in the Small Business BC Awards' judging process, all finalists will pitch their business to a panel of business experts during the week of February 3rd - 6th, 2020.
Please find our Media Kit at the bottom of this page.
---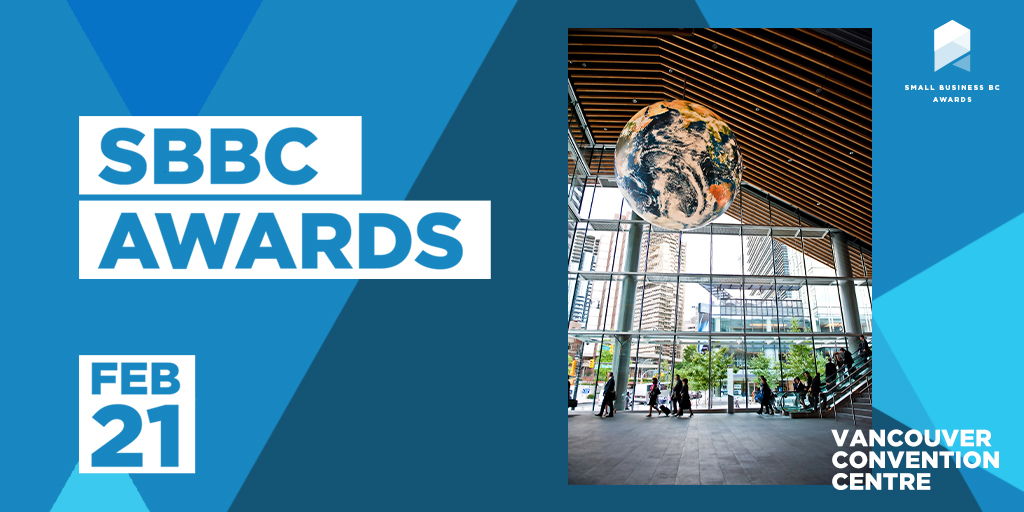 SMALL BUSINESS BC AWARDS GALA
The winners of each category will be announced at the Small Business BC Awards Gala, sponsored by Canada Post, held at the Vancouver Convention Centre on February 21, 2020.
Guests will enjoy dinner, drinks, and networking with BC's top business owners, industry leaders and government officials, all with glittering views of Vancouver Harbour and the North Shore mountains.
As part of the SBBC Awards, in partnership with the Government of British Columbia, SBBC will also celebrate the Open For Business Awards during the evening, highlighting the small, medium and large communities who have supported the growth of small businesses through regional initiatives.
Small Business BC Award winners will receive the Premier's Prize in the amount of $1,500 cash, a one-year All-Access Pass to Small Business BC education and experts, and the honour of being named a top B.C. small business. 
More information about the Awards Gala: sbbc.co/awards2020
More details about the Small Business BC Awards: sbbcawards.ca
---
QUOTES
"We are thrilled with the engagement of B.C.'s small businesses and the communities that support them as we prepare to host the 17th Annual Small Business BC and Open for Business Awards next month. We extend our heartfelt congratulations to all of the finalists entering this last leg of the competition." ​
​- Tom Conway, CEO, Small Business BC
"Canada Post is pleased to once again celebrate the success of small businesses and entrepreneurs through our involvement in the Small Business BC Awards. We look forward to sharing their stories of success and helping to support the growth of these businesses." – Danielle Doiron, General Manager of Marketing at Canada Post
PHOTOS
Small Business BC Awards Gala 2019
---

​About Canada Post ​
​Canada Post is Canada's primary postal operator, providing service to more than 16 million addresses and delivering nearly 8.4 billion items in 2016. They are committed to providing innovative physical and electronic delivery solutions that create value for customers, small business and Canadians.
Media Kit - SBBC Awards.7z
7Z - 6.9 Mb
Download
 ​